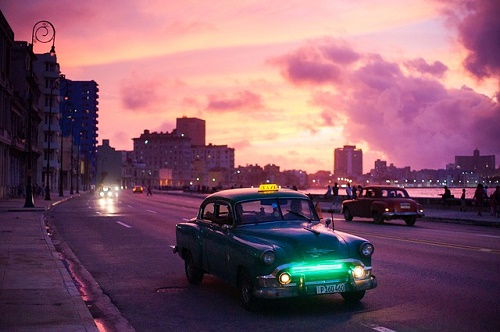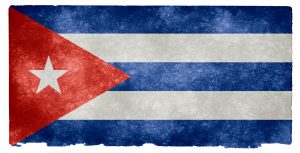 About 93 miles south of Florida's Key West, lies a fascinating island nation with a turbulent past, a cautiously optimistic future, and a present that sparks the imagination, curiosity and wanderlust of most any travel enthusiast. Images of dimly lit colonial cities pulsing with rumba music by night, flamboyant splashes of color and glistening sugar white beaches by day, 50s era antique automobiles and slowly decaying architecture connecting us to bygone days and burgeoning food and hospitality scenes showing a glimpse of what can be again in the future, all blend into ones imagination creating  a picture of an enticing, yet forbidden destination. Of course we are talking about Cuba, which is the island destination we will explore this month.
Cuba was discovered by Christopher Columbus in 1492 on his first voyage to the New World. He is reported to have described it as "the loveliest land ever beheld by human eyes". It is the largest island in the Caribbean, and with around 12 million people, the second most populous. Originally inhabited by Taíno, the island was to be ruled by the Spanish for nearly 400 years. There were brief occupations by the British early on and the USA, after the Spanish lost control in 1898,  before Cuba became independent in 1902.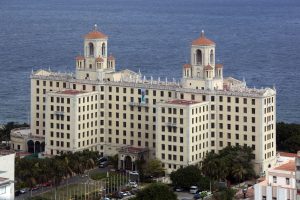 Before the Cuban Revolution of 1959, led by Fidel Castro and the ensuing US blockade and trade embargo, Havana, the island's captivating and fun loving capital city, developed into a popular playground for vacationing Americans, offering lavish entertainment at such places as the world famous Tropicana Club, gambling, and grand hotels such as the Hotel Nacional lining the Malecón, Havana's seaside promenade.
With Castro's Revolution and the ensuing communist rule, the doors slammed shut and one of the USA's closest neighbors practically ceased to exist after travel, imports and interactions with the  island nation were strongly restricted.




Things have begun to change somewhat and although free travel for US citizens is not yet a reality, tourism from Europe, Canada and other nations has tripled in recent years, leading to a noticeable upgrade in the quality and number of tourist services provided. It is still not a place where one travels with the help of a Michelin or Zagat city guide. To find the best restaurants, bars and accommodations, word of mouth is often the best place to start. Cubans are friendly people and are generally very willing to help visitors out.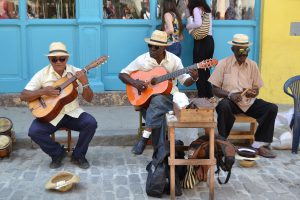 The city of Havana was founded around Havana's natural harbor in 1519. Its Spanish Colonial architecture was built in the Baroque and Neoclassic styles. Several imposing fortresses add drama to the Harbor and the pulse of the Malecón beats deep into the night.
There is much to see, explore and experience beyond Havana. The island's national parks, mountain ranges, forests, swamps, plantations and beaches offer a wide range of experiences. Following in the tracks of Ernest Hemingway and exploring the Cubans' music, dance and art, will  be stops on the way as we set forth on our journey  to experience Cuba's sites, history, culture and remarkable cuisine.
Save
Save