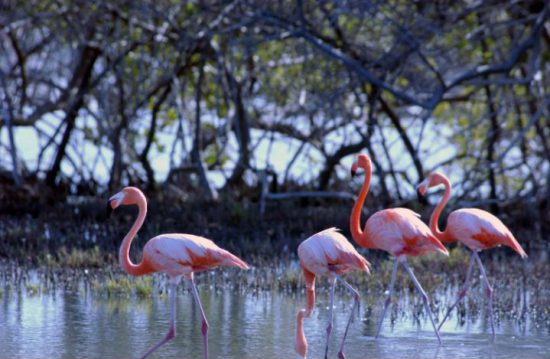 The Flamingos of Bonaire
The Flamingos of Bonaire
Bonaire, the most eastern of the ABC Islands (the order from left to right on the map is actually ACB) is widely considered a nature lover's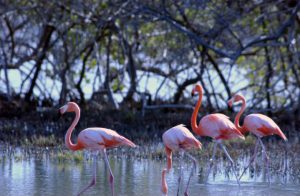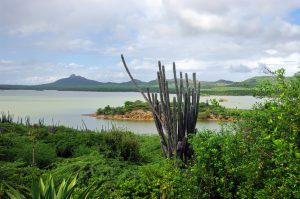 paradise. Most notable on the long list of Bonaire's unique inhabitants is the pink flamingo. There are only a handful of places on earth where there are such large numbers of flamingos. They do like their privacy though and are notoriously difficult to photograph as they do not seem to appreciate being disturbed by humans. The flamingos are just the beginning however. Herons, pelicans, parakeets and parrots count among the 203 types of birds that can be spotted on the island, many of them endangered or unique to the island itself.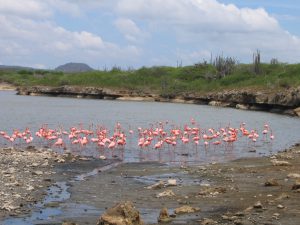 In Washington Slagbaai National Park, iguanas, sea turtles, a variety of cactii and agave and scenic hiking trails can be found in addition to the flamingos and bird life. At the highest point of the park, it is possible to catch glimpses of both Curaçao and Venezuela on a clear day. Be sure also to check out the Donkey Sanctuary, nearby.
The unbelievably blue waters off the shore of Bonaire are part of the Bonaire National Marine Park which encircles the entire island. Widely regarded as one of the Caribbean's best diving locations, it boasts 86 named dive sites and includes the nearby uninhabited island of Klein Bonaire.
The colorful capital of Kralendijk, which translates to Coral Dike, is a vibrant mix of pink green and orange Dutch Colonial architecture. It is one of only two cities on the island, the other being the inland city of Rincon.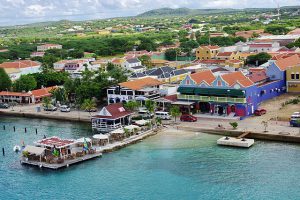 Go on to explore the rest of the island which with
it's arid, cactus-filled landscape reminds some of the American southwest. Whereas Curaçao was the center of the slave trade, Bonaire served as a  site for plantations of the Dutch West India Company. African slaves were put to work in the cultivation of dyewood and maize and in the harvesting of salt.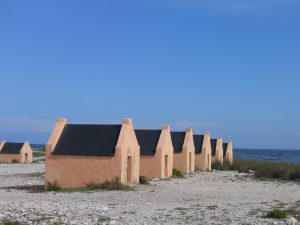 Today, there still remain plantation houses, stone slave quarters and the salt pans which serve as a favorite nesting site of the flamingos. And don't forget the pristine white sand beaches and the bluest water of the Caribbean.