Singapore – Gateway to South East Asia
Singapore – Gateway to South East Asia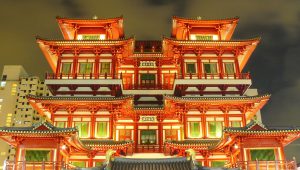 This month takes us to the vibrant, fascinating island country of Singapore.  This city-state consists of one main island and 62 smallerislands located off the tip of the Malay Peninsula. A melting pot of cultures, Singapore is a densely populated mixture of  Chinese, Malay and Indian ethnicities with significant expatriate populations from many other countries. A city of 5.5 million people, Singapore is nevertheless known as the 'garden city' due to it's extensive parks and green areas. For many years it was the world's busiest port. Now, at number two, according to Forbes, it is remarkably clean, with a low crime rate and high quality of life, due to strict laws and policies.
Singapore was established as a trading post of the British East India Company in 1819. It was previously populated by a few fisherman. The name, meaning 'Lion City', goes way back to when a prince by the name of Sang Nila Utama landed on the island and saw a creature which he thought was a lion. It is likely that it was a tiger or a wild boar as lions do not frequent the area, but the name 'Singa Pura' and the symbol of the lion have stuck.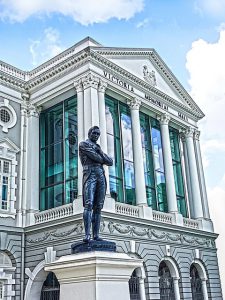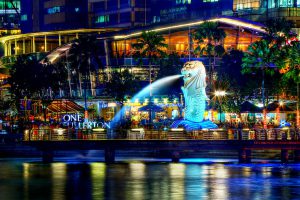 After annexation by Japan during World War II, Singapore became a British colony in 1945 until joining the Federation of Malaysia for two short years (1963-1965). Independent since 1965, Singapore has developed into a prosperous trade and financial center and is considered the gateway to South East Asia.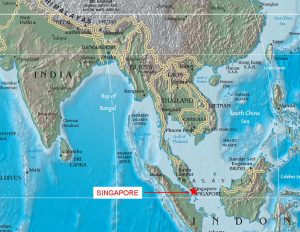 Singapore is located 1.5 degrees north of the equator and enjoys sunshine throughout the year. Short daily showers and thunderstorms are the norm, which contribute to the beauty of Singapore's 50 parks and green areas.
English is the common language, but most Singaporeans are bilingual and also speak Mandarin, Malay or Tamil.

Shopping is a favorite pastime here and the hawker food stalls are famous the world over for the cheap and delicious food specialties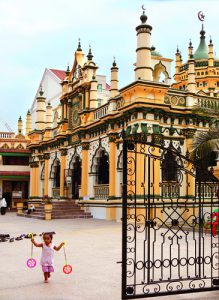 offered. Explore Chinatown, Little India, Merlion Park, Gardens by the Bay and the Waterfront Promenade to start.  The Botanic Gardens, Jurong Bird Park and Singapore Art Museum should also be high on the itinerary list.  Admire the ultra modern architecture of the Marina Bay Sands which contains the world's largest atrium casino, shops, theaters, skypark and roof top infinity pool. There is a lot for us to explore, old and new, as we visit this spectacular destination.