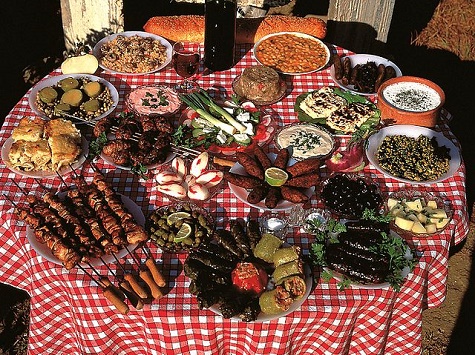 Grilled Meats, Old Wine and the National Cocktail – The Food and Drink of Cyprus
Grilled Meats, Old Wine and the National Cocktail – The Food and Drink of Cyprus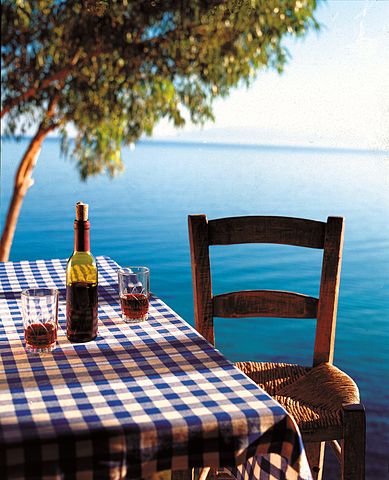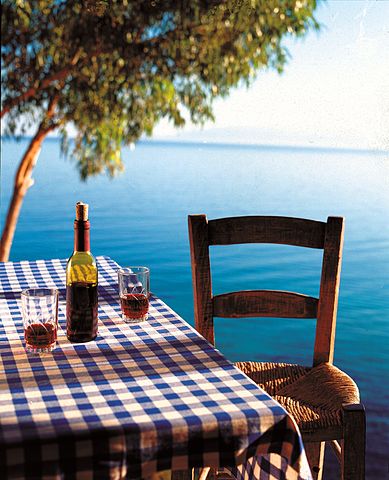 The continents of Europe, Asia and Africa are all within close reach of the island of Cyprus, located in the eastern Mediterranean. As one would expect, the cuisine and culture of the island draw from all three. The dominant influences, however, are Greek and Turkish. Many of the most popular dishes and beverages of Cyprus are nearly identical to, or are variations of the most popular Greek and Turkish fare.
The flavors and aromas of cumin, coriander and mint characterize many Cypriot dishes. Many of the most common foods can be found in Greece, Turkey and the Middle Eastern countries. These include, tzatziki, the yoghurt, cucumber and dill sauce served as an accompaniment to meats, hummus, concocted from chickpeas and the sesame seed paste known as tahini, skordalia, a potato and garlic dip, and taramosalata, a pink fish roe dip. These items are often served as mezes, which means 'small dishes', along with stuffed vine leaves, olives, small portions of warm or cold salads, seafood, small meatballs, sausages, cheese or any number of other items, and bread. Every taverna, as the small restaurants or cafés are called, offers a mezes or mezedes platter as a beginning to a full meal, or simply to be enjoyed with ouzo, the Greek anise liqueur, or other alcoholic drinks.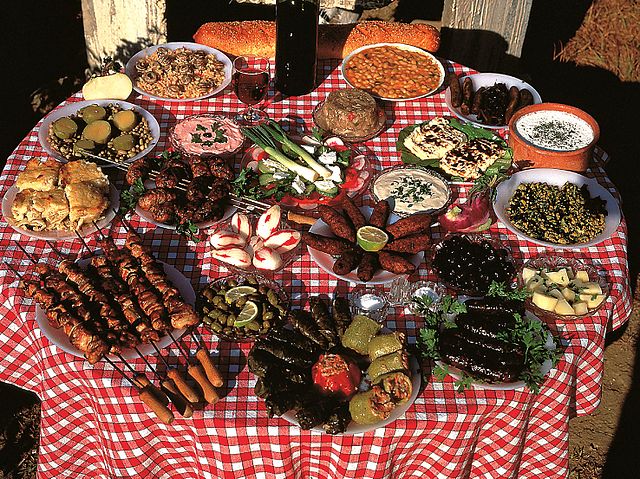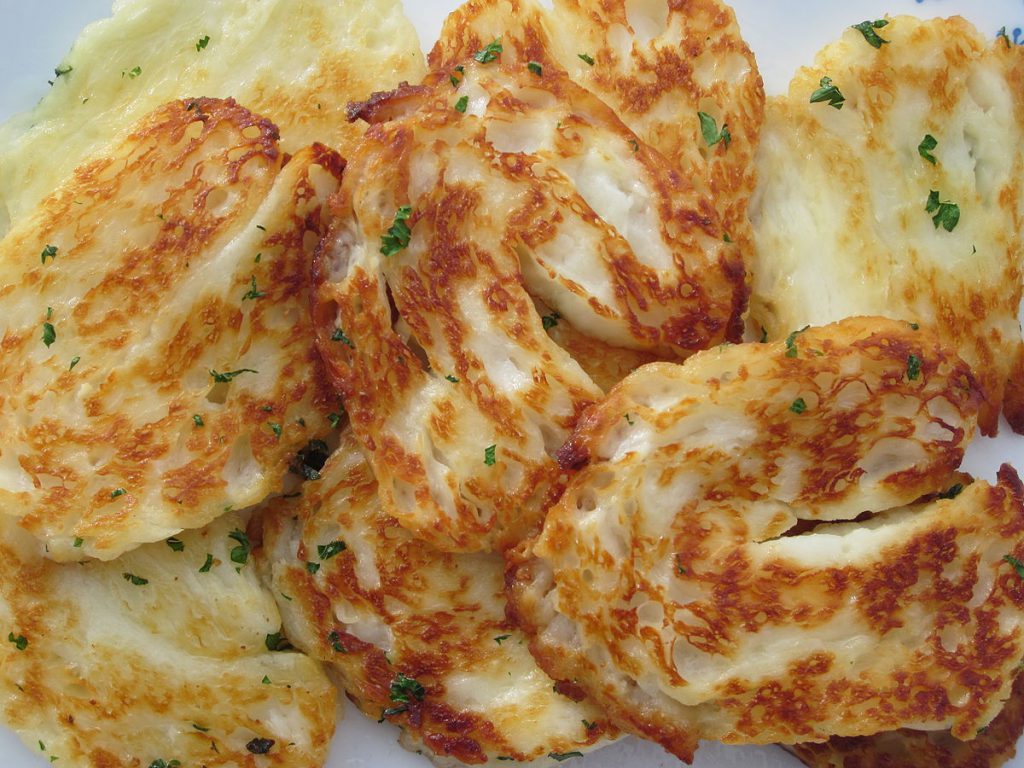 Perhaps the most famous Cypriot food item is halloumi cheese. This cheese has a high melting point and a somewhat rubbery texture and is usually grilled or fried. It is sometimes served cold with slices of watermelon. My favorite version is grilled with a balsamic fig sauce. It is not cheap, but is readily available in most places.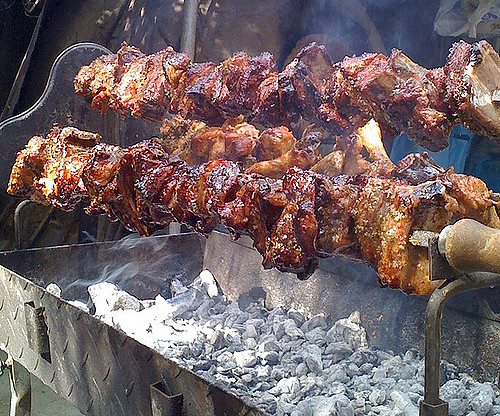 Souvla, which is probably the most common meat dish, is kind of the same thing as souvlaki, which is well known in Greek cuisine. The difference between the two is only that with souvla, the meat, cooked on a skewer over a charcoal barbecue, is cooked longer and in larger pieces. Lamb is usually used, but pork and chicken are also common. The special rotisserie grill used to cook souvla is called a foukou and is easy to find on amazon.com and elsewhere. Souvla, or souvlaki is generally served either with a salad filling in pita bread, or with rice and vegetables. Other typical meat dishes include stifado, a delicious meat stew prepared with wine, tomatoes and spices, sheftalia, which are pork or lamb sausages, koupes, made from deep frying minced, spiced meat encased in a shell made from bulgar wheat, and makaronia tou fournou, the Cypriot version of the Greek pastitsio, a baked pasta dish containing macaroni, bechamel sauce, cheese and ground meat.
Common side dishes include bamies, or okra in tomato sauce, fakes, or Cypriot lentils with rice, and louvi, a vegetable dish containing black eyed peas.
Seafood is a substantial part of the diet. Served as a main course or as part of a seafood mezes, the most common seafood items are salt cod, calamari, octopus, cuttlefish, gilt-head bream and sea bass.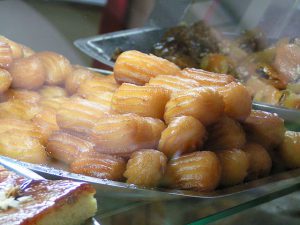 Besides the many tavernas and souvlaki shops, there are plenty of bakeries offering loukoumades, or deep fried dough balls soaked in honey, baklava, made with layers of filo dough,  tulumba, similar to loukoumades but piped into a decorative tube shape, or flaounes, a cheese filled pastry.
Loukoumia, or Cyprus Delights, are a confection made of a flavored starch and sugar gel – the Cypriot equivalent of Turkish Delight. Shoushouko is a sweet made from boiled and thickened grape juice.
There are many wineries on the island which produce excellent table wines. The most famous wine, however, is Commandaria, a sweet red dessert wine which has the distinction of being the world's oldest named wine. This is according to the Guinness Book of World Records. It has been made for over 5,000 years! Richard Lionheart was a fan, calling it 'the wine of kings and the King of wines'. It is still produced today and continues to have many fans.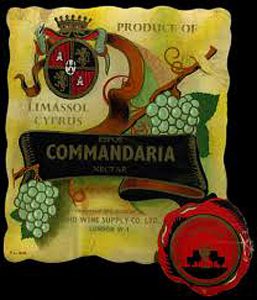 Some claim that the national dish of Cyprus is souvla. More agreed upon, however, is that Cyprus has a national cocktail – the Brandy Sour. It was created at the Forest Park Hotel at the Plátres Resort in the Troodos Mountains for King Farouk of Egypt, who often stayed there. As a Muslim monarch who was inclined toward alcoholic drinks, it was intended to closely resemble iced tea. The drink reached celebrity status and is a common Cypriot drink today.
This month's cocktail is inspired by both the Brandy Sour and the Olympic cocktail, both of which use brandy and citrus juice as main ingredients. I decided to go with Greek Metaxa, roast the citrus in the oven a bit, add notes of bay leaf and then a bit of Campari for a copper color, as the metal was so important in Cypriot history. One theory about the etymology of the name Cyprus is that it is derived from an ancient word for copper. In Latin, the word for copper is Cyprium, often shortened to Cuprum, and meaning 'metal of Cyprus'.
Cyprium Sour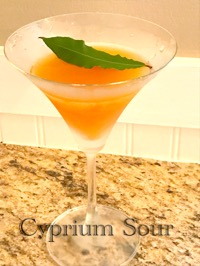 2 oz. Metaxa 7-Star Brandy

1 oz. citrus mix

1/4 oz. Campari

2 tsp. bay infused simple syrup or to taste
Shake all ingredients together with ice and strain into a cocktail glass. Garnish with a fresh bay leaf, if desired.
To make citrus mix- Cut 2 oranges and 1 lemon into quarters. Spread out on baking tray and toss on a couple bay leaves. Watch carefully so as not to burn and roast in 400 degree oven for 20 minutes or until citrus starts to char. Cool and squeeze out juice from fruit. Refrigerate until needed. Makes 3/4 to 1 cup.
To make bay infused simple syrup. Boil 3 dried bay leaves with 1/2 cup sugar and 1/2 cup water for 2 minutes. Refrigerate and cool leaving bay leaves in syrup.  Or easier method – microwave pre-made simple syrup in microwave with bay leaves for 2 minutes. Refrigerate.
Save
Save
Save
Save
Save