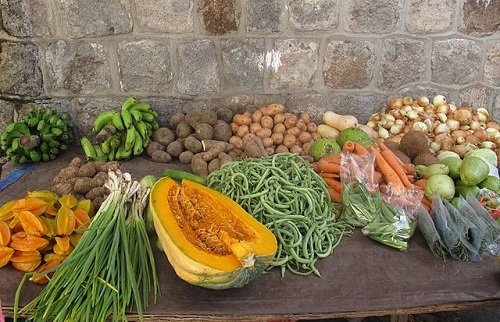 Goat Water, Guava Cheese, Cook-Up and Batik – Eating, Drinking and Shopping in St. Kitts and Nevis
Goat Water, Guava Cheese, Cook-Up and Batik – Eating, Drinking and Shopping in St. Kitts and Nevis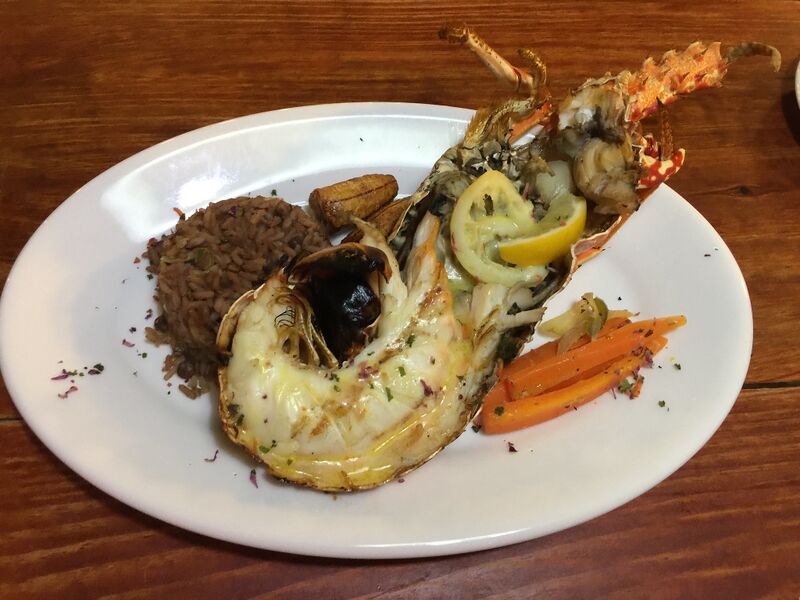 St. Kitts and Nevis is known for its excellent local, Creole and West Indian cuisine. Chinese, Western and Indian dishes are also popular food options on the islands. Visitors can find fresh fish sold from boats, fresh fruit from market stalls and road side barbecues where vendors cook meat over oil drums. On Nevis, the villages traditionally  have cookouts on weekends where people gather, eat, socialize and play games together.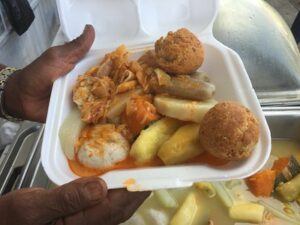 The national dish of the island nation is salt fish and dumplings, made from salt fish, breadfruit, plantains, and coconut dumplings, usually served with Johnny Cakes, a golden cake fried in oil which is commonly enjoyed at breakfast or as a snack. Salt fish, which is also called bacalao, is a salt-cured white fish, usually cod, which is dried until all the moisture is removed. When preparing salt fish, it is usually necessary to soak it overnight and boil it to remove some of the salt and rehydrate it.
One of the more popular local dishes carries the interesting name of 'goat water', or 'goat water stew'. Goat meat is possibly the most consumed meat in the world and is a healthy and flavorful alternative to beef and pork. The popular stew is made with goat meat, breadfruit, papaya and dumplings in a tomato based stew.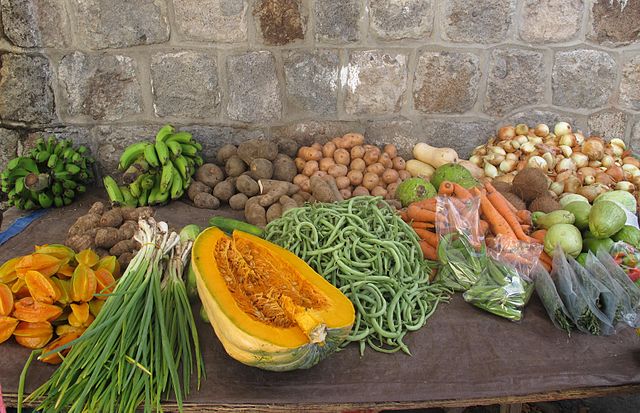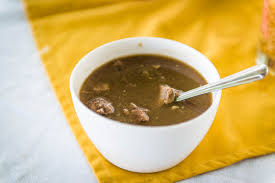 'Cook-up', or pelau, is a common dish made with a variety of meats, such as  beef, chicken, saltfish and even pigtail, combined with vegetables, rice and pigeon peas.
Roti are a flat, unleavened bread which are typically filled with curry spiced vegetables, chicken or shrimp. Conch fritters are also a favorite, as are 'conkies', a cornmeal based dish similar to tamales, containing sweet potato, pumpkin, coconut and raisins and steamed in fresh green banana leaves.
Fresh lobster, fish and seafood make up a big part of the islands' cuisine and can be enjoyed fresh from the boat, at one of the many beach bars, or in any number of fine restaurants and dining establishments on the islands.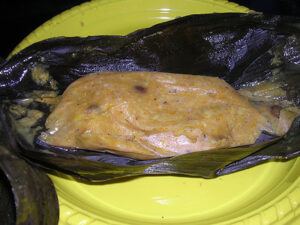 Besides the popular Johnny cakes, one will find festive, colorful sugar cakes. Popular throughout the Caribbean, these sweet confections are made from sugar, coconut and ginger and are artificially colored to look festive. Guava cheese is a sugar coated, sour sweet confection made from guava paste.
The national drink of St. Kitts and Nevis is CSR, an abbreviation for Cane Spirit Rothschild a version of rum created by entrepreneur Baron Edmund de Rothschild in the 1980s. Rothschild's idea was to create a new kind of spirit. Departing from the usual rum making process, he distilled the spirit from cane juice, rather than molasses and used a distilling and filtration process that resulted in a pure product, said to produce fewer hangovers. CSR is an excellent mixer and continues to be popular with islanders and visitors alike.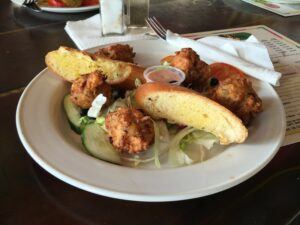 The island distilleries Belmont Estate and St. Kitts Rum produce excellent local rum and Carib, Stag and Skol beers are produced in a brewerey outside Basseterre. A favorite local cocktail is 'Ting With a Sting', made from Ting grapefruit soda and CSR.
Batik is an ancient art which originated in Indonesia. Wax is used to create patterns with colorful dyes on fabric or paper. Shops offer dresses, art, handbags and more with vibrant batik patterns. Caribelle Batik, one of the most sought after producers of batik, has been producing beautifully distinctive batik products since 1976. Caribelle's facility is located at Romney Manor, next to Wingfield Estate, one of the island's most popular tourist destinations. Visitors can watch batik demonstrations and shop for apparel, accessories and all types of gifts.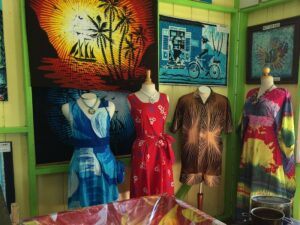 Other popular souvenirs from the island include conch shells, goatskin leather items, jewelry, pottery and stamps. Visitors will also want to consider picking up some hot sauce, rum, and, of course, sugar cakes or guava cheese.
And, finally, Island Profiles once again has a cocktail created to celebrate our exploration of St. Kitts and Nevis. This one is the SKaNdal. Get it?? I combined rum with both a British and French Spirit and added a squeeze of lime. I had some blueberries on hand and decided to use some both in the drink and as a garnish. After some experimenting with ratios, I ended up with a tasty drink. Here is the recipe:
The SKaNdal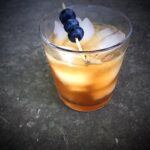 4 blueberries
2 oz. rum
1/4 oz. Pimm's No. 1
1/4 oz. Chambord
squeeze of lime
Muddle blueberries in cocktail shaker with Pimm's and Chambord. Add rum, squeeze of lime and shake with ice. Double strain into an ice filled rocks glass and garnish with blueberries.