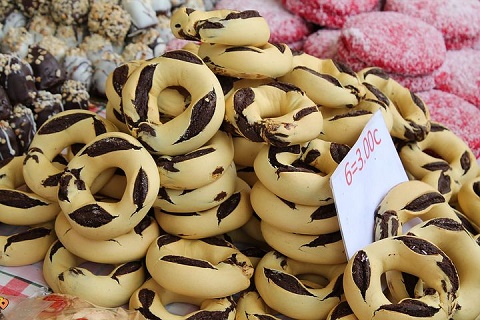 Rabbit Stew, Pastizzi and the Malteaser
Rabbit Stew, Pastizzi and the Malteaser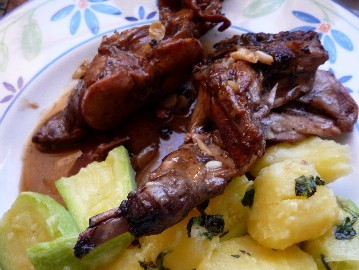 The cuisine of Malta shows heavy influence from Sicilian and English cuisine, as well as Spanish, French, North African and Arabic cuisines. Malta's strategic location and history have contributed to the forming of a multi-faceted and delicious array of interesting dishes. It was as a reaction to a hunting ban by the Knights of St. John, that rabbit became so popular, and likewise, the predominance of pork in the cuisine was a reaction to the non Christian powers that ruled the island.
The 'national dish' of Malta is Stuffat tal-fenek, or rabbit stew.  It is often served as two courses – first a spaghetti with rabbit ragù and then the rabbit meat cooked with wine, tomatoes, bay leaves and vegetables with some kind of accompaniment, such as potatoes.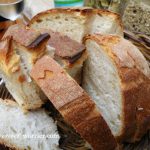 Maltese bread is a crusty sourdough bread with a soft center, served with the many hearty stews offered by Maltese cuisine. The town of Qormi is known as 'Baker's Town'  because of the many bakeries located there, many of whom still use traditional wood fired ovens.
Other typical dishes in Maltese cuisine include 'Widow's Soup', a tomato based soup which includes all kinds of vegetables, Lampuki Pie, a fish pie, Bragioli, or 'beef olives', which are stuffed beef rolls and Aljotta, a Maltese version of Bouillabaise, or fish soup.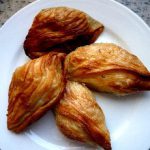 Pastries and sweets of all kinds are popular in Malta, especially around the holidays. The most famous are pastizzi, which are flaky croissant-like savory pastries filled with either a salted ricotta or mashed pea filling. The most popular place to get these is the 'Crystal Palace' in Rabat on Malta. This establishment is open around the clock, so you can get your pastizzi day or night! Also very typical are honey/treacle rings. These attractive pastries are traditionally made at Christmastime, but are available all year long. The Maltese love their sweets! You will also find cannoli and cassata cake among the numerous offerings, evidencing the strong Italian influence on the island.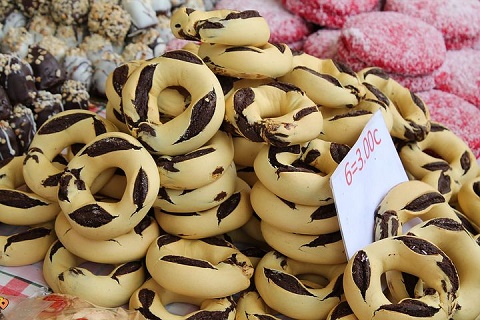 In the beverage category we have Kinnie, Malta's own soft drink. It has a bittersweet flavor profile of bitter orange and aromatic herbs. Cisk is Malta's award winning beer. Seen everywhere in the Maltese archipelago, it is a beautifully balanced golden lager and has been brewed since 1928.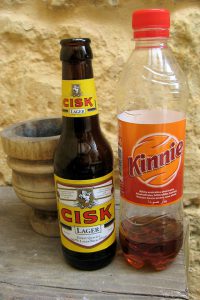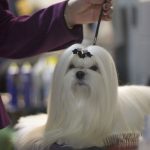 Straying away from the food category, I thought it would be fun to include a mention of the Maltese dog breed.  This small breed of dog belongs to the toy group and is selectively bred to be small. Its origins are proven to be from the central Mediterranean, if not in fact, Malta. Ancient Greek and Roman writings refer to them with the term 'Melitaeus' or Melita, the former name of Malta.  They have also been called "the ancient dog of Malt", the "Roman Ladies' Dog", the "Maltese Lion Dog" and "Melita". They are very cute.
And now its time to celebrate all things Maltese with the Malteaser Cocktail.  This time around the flavors of lemon and honey balance with the gentle herbal bitterness of Averna, a classic Italian digestif. For the lemon, I decided to try Limoncello liqueur instead of lemon juice. I experimented with Amaro Abano, another Italian liqueur, which gave it a distinctly different flavor and darker color, but was equally delicious. Bitters can also be added, if preferred.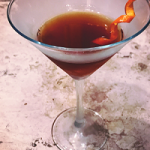 Malteaser Cocktail
2 oz. Brandy
.5 oz. Averna Amaro
.25 oz. Limoncello
1 tsp. honey syrup (50/50 water & honey)
Stir with ice, strain and serve with orange twist.